This year actually started off on a beautifulbalmy and breezy evening where we painted on a lovely waterfront estate. The next day was also fairly pleasent though the temperature was starting to rise. Here is my first competition painting titled Cambridge Morning.
By Monday the temperature had risen to the high 90's though I had good starts I didn't manage to finish anything worthwhile. This year, however, I was smart and had a beach size umbrella with me which was great for shading both me and my easel. Tuesday we were up to 100 and I pulled off a rather nice 18 x 18 painting of a gladiolous field which I thought might be one of my two competition paintings. However, I decided at the last minute to enter it as a replacement. It didn't sell and now that I have it back in my studio I see some rather obvious improvements that I could make to it. Stay tuned on that one.
I had planned to paint a waterman on his workboat in the afternoon but we both canceled and I painted a landscape of Lowe's Wharf marina instead. I started off with a great design but things started to fall apart as I added the color. I really think my eyeballs had just had enough light for the day.
Wednesday, the temp reached 105 and I decided to paint a figure of my neighbor, Chris, sitting on her white couch in her cool living room. It was a bit of a challenge as to get the view I wanted I had to paint in a rather dark corner. Excuses, excuses. But I think it was a rather pretty painting.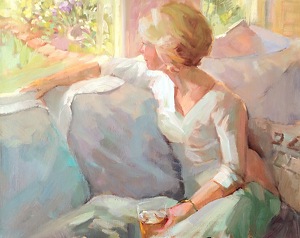 No award for me again this year, but I made 4 sales and have some good starts of landscapes that I will finish from memory in the cool comfort of my studio. Yes, I am turning into a plein air sissy.
Considered several times during the week not entering the competition next year if it is again in July, but I probably will. The level of talent is high and I always learn something new, and the comraderie is great.
Check out the website and the videos that were made during the week at www. pleinaireaston.com or on the Facebook Page for the Avalon Staff.