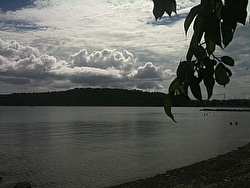 Curacao Day I
Arrived in Curacao yesterday around 2:30 PM after a 6AM flight from Baltimore. Spent the night before worrying about what I had packed and what I had forgotten. Took out some heavy art books that I was going to share with the workshop students but made sure I had my Carlson's Guide to Landscape Painting as well as Kevin Macpherson's Fill Your Paintings With Light and Color. Have a suticase filled with Handi-Porters and Art Cocoons, as I'm sure the students will not have those items. Am also carrying a small pharmacy with me since I got sick with bronchitus a few days ago!
As the plane was approaching the island I was struck by the lush green of the landscape. I had read that Curacao had an arid climate so was more prepared for brown hills surrounded by turquoise waters. This looked more like Hawaii. When Hellen met me at the airport she said it had been raining off and on for several months and the greenness was totally uncharacteristic. There were puddles everywhere because the ground is completely saturated.
We immediately went to scope out a nearby public beach as a possible painting site and to have a welcoming drink at Pop's Place. The beach front bar was full of tourists and residents, all enjoying what I expected to be a group of native musicians. Instead the band was a military group from the Dutch Royal Navy!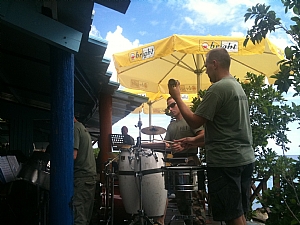 After settling in at Hellen's comfortable villa, we drove downtown to the Punda, the old area of Willmenstad. This area is full of colorful historic buildings, interesting alleyways, outdoor café's, a floating market , an old fort overlooking the sea, and a river full of boats of all sizes from small skiffs to large battleships. With it's many pedestrian only streets and small parks, this town will be perfect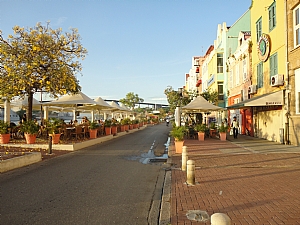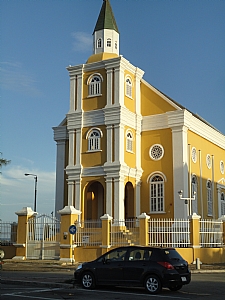 for a plein air festival!
I especially loved the floating market and this unusal piece of public art.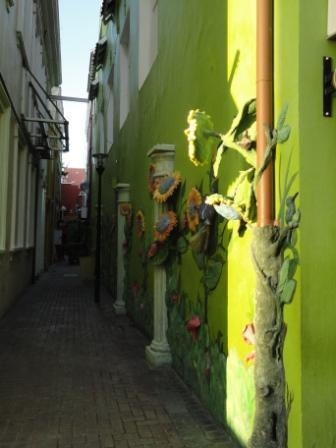 After exploring the old town and inspecting some hotels that may be good candidates for workshop students, we had dinner at a small seafood restaurant where we could see the lights of night time scuba divers just off the beach. The breeze was gentle and I was ready for a full night sleep.
Day II
Today I was reminded of several sayings that couldn't have been more true.
Expected the unexpected.
Thank goodness plein air painting has helped me deal with change because there has been a BIG one!
In order to reach the largest number of artists possible, and to get the public enthused about the upcoming Plein Air festival, the organizers have decided that I should give a talk and demo to the public rather than teach a plein air workshop now. So Plan B is that I will spend the weekend exploring and painting Curacao, and then starting Monday we will have a publicity blitz which will include a spot on the most popular radio show Perspectiva, a guest spot on a popular morning TV show Moru Bon Dia , and a newspaper story – with my talk and lecture as the grand finale on Wednesday night at the Cultural Center.
Assume nothing. As far as assumptions about the difficulties I might face, the sun and the wind have proven to be less a challenge than the rain. We had heavy downpours last night and this morning there were frequent showers with rumbles of thunder. I haven't even taken out my sunscreen and my hat goes unused. The workshops for Curacao artists will be held in August during the plein air festival so my worries about the students being ill-equipped are gone! So today we are busy at our computers preparing the ads and making plans for how best to use the time when Al Bond and Jessica Rogers arrive. This is beginning to feel like the beginning days of Plein Air Easton - alot of work ahead and alot of unknowns. Hellen is a real asset. Her husband and one daughter are artists, she loves the idea of bringing plein air to the Curacaons, and she is politically saavy. The fact that she is fluent in English, German, Spanish and Papiamentu doesn't hurt either!
I had hoped to have photos of the students at work, but instead I'll show you a few more photos from yesterday.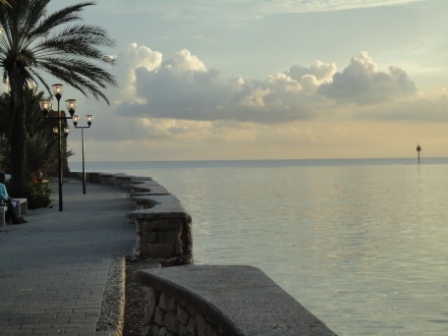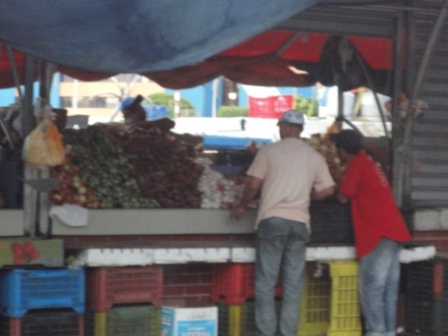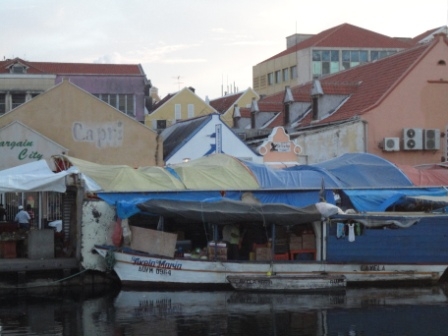 Te manan! ('till tomorrow)
Topics:
2. Curacao Trip