Seven years ago, when we began planning for the first Plein Air Easton (www.pleinaireaston.com), little did I dream that my involvement would lead me to teach plein air painting to artists of this beautiful Caribbean Island nation (formerly part of the Dutch Antilles)! After three years on the planning committee that launched the festival, I "retired" from the committee and have been lucky enough to compete as an artist in the event. Now, with this fantastic opportunity I am back once more at the drawing board, but lucky this time to also use my skills as an artist and teacher. I leave early Thursday morning to fly to Curacao as a guest of the Curacao Tourist Board and the Arts Foundation Curacao, laden with a suitcase full of plein air supplies and gifts for the Curacao artists, most of whom have seldom painted outside of their studios.

How did this come about? Last year a citizen of Curacao, Mrs. Hellen Chirino-Roosberg, attended the Plein Air Easton Winners Brunch. Hot and humid as it was, she fell in love with the event and hatched the idea of bringing plein air to Curacao. She found backers on the island, including the Tourist Board, and asked the very able organizers of Plein Air Easton, Al Bond (Executive Director of the Avalon Foundation) and Jessica Rogers (Operations Officer of the Avalon Foundation) to help run their inaugural event. After much negotiating and trying to figure out the logistics long distance, Al, Jessica and I agreed to come to the island on an exploratory run. (Oh, if we must......sigh)
The coolest thing about this is that any artist who is in Plein Air Easton 2011 will be invited to come to the island during that week and will be guaranteed lodging! The word is just now going out to the competition artists (we wanted to make sure this was really going to happen before going public) and we hope that a good many of them will want to join in this historical paint-out. Part of our job next week is to figure out how to maximize sales for the artists. It's uncharted territory and we have a lot to learn.

Another thing I will be doing is setting up workshops, taught by Plein Air Easton artists, and encouraging students from the states to join in. So, if you are not a competition artist, but love to paint plein air and are game for a great adventure, stay tuned. I plan to come back with facts and figures that will make this workshop irresistible! Mrs Chirino-Roosberg has already secured reduced airfare, so I think the cost will be reasonable...much less than European workshops.

Although I have taken American painters to Europe, this will be the first time I will go to a foreign country to teach the locals. If any of you has experience doing that, I'd love to hear from you. I anticipate that most of the students will not have plein air easels and most of the other conveniences that plein air painters are used to having. We will have to be inventive! I"m taking some sample wet canvas carriers from Handi Porter and Art Cocoons, chosen because they take up so little room in luggage, plus a long list of websites where they can purchase plein air equipment. The cost of importing such equipment to a Caribbean Island could be prohibitive, and we need to work on ways to help the Curacao plein air painters get equipped without mortgaging their homes!

Impediments I anticipate, in addition to the lack of equipment, is the hot, sunny and windy climate. Bags of rock to hang from their easels seems a partial solution for the wind. Adequate sunscreen, special UV protected clothing, hats with big visors and plein air umbrellas will be essential. The umbrellas may prove to be a problem in the wind, but I'm taking my Easy –L Plein Air painters umbrella to test. Willemstad is a busy port and people won't be used to seeing painters, so crowds of onlookers could be a problem. I'm sure there will be some doubts on the part of the local painters (and WHY are standing here baking in the sun??!!) who are used to the comforts of their studio. I have to convince them that plein air painting is fun, often lucrative, and a way to expand their painting vocabulary. We are working on economical ways for artists painting during the event to secure their wet paintings safely in a manner that a buyer could easily take back to a ship or on a plane. Suggestions welcomed.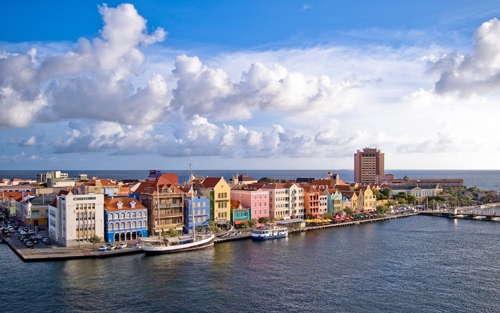 Almost forgot! The whole reason Plein Air Curacao is happening so soon (August 29- Sept 3) is that on that particular weekend there will be 10,000 visitors in town for their International Jazz Festival, (www.curacaonorthseajazz.com/en/. It's a big one, and they have such artists as Stevie Wonder, Earth Wind and Fire, and Dione Warwick. We hope to reserve a block of tickets for workshop attendees and plein air painters who want to attend, as we have been told it usually sells out. Maybe there will be some painting opportunities during the performances!

So check it out at www.pleinaircuraçao.com and stay tuned for regular blogposts from yours truly. I would love helpful suggestions or tales of your similar experiences.

Bon bini! ( my first Papiamentu word which means "welcome"
Ayo, (my second Papiamentu word which means "bye")
Nancy Tankersley

Topics:
1.Curacao Trip